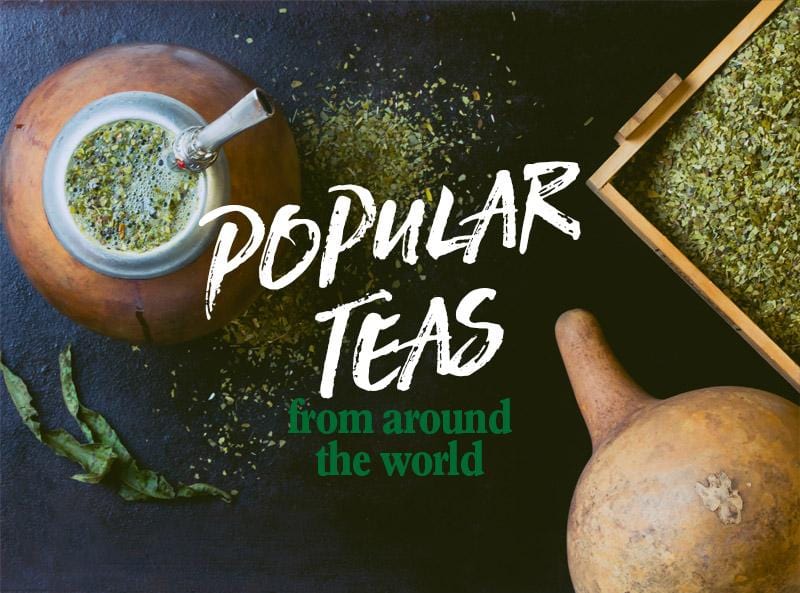 Popular teas from around the world
Us Brits are known around the world for our love affair with tea. But did you know that tea is enjoyed across the globe, in hundreds of different countries? Although other countries may not take their tea in the same way we do (milk and sugar anyone?), it's safe to say that tea in general is a global favourite.
Here are just a handful of the most popular teas from around the world:
English Breakfast (England)
We can't resist a cuppa with our hearty English breakfast, and what better tea for the job than black tea? Full-bodied, robust, rich and blended to go well with milk and sugar, our preferred blend of teas originates from Assam, Ceylon, and Kenya.
Quebra Pedra (India)
Also known as 'stone breaker' for its reported ability to help break down kidney stones, Quebra Pedra originates from a small plant found in the Amazon rainforest, and other tropical areas of the world such as India and the Caribbean. The tea has a naturally smooth taste and has been used in Indian ayurvedic practices for hundreds of years.
Pau d'Arco (Peru & Brazil)
For over two thousand years, infusions prepared from the bark of the Pau d'Arco trees have been drunk by many rainforest tribes to help contribute to the immune system. These infusions are still popular today, with Pau d'Arco having particular prominence in both Peru and Brazil.
Yerba Mate (Argentina, Paraguay & Uruguay)
Yerba Mate is particularly popular in southern South American countries where drinking the infusion is a social act. Friends gather to drink Mate from a gourd and pass it around the group to create a sense of connection. Footballers such as Lionel Messi and Jonas Gutierrez have played a part in making Mate more popular in the western world thanks to their habit of drinking it on the sidelines.
Matcha (Japan & China)
Matcha is a special type of green tea which has been consumed in China since the 9th century, and in Japan since the 12th. Matcha's high chlorophyll levels set it apart from other teas, as chlorophyll has a detoxifying effect on the body, helping to remove heavy metals and other toxins. One cup of Matcha has 10 times the nutritional value of regular green tea, yet half the caffeine of coffee - no wonder it's so popular!
Sweet Mint (Morocco)
The mint teabags we know and love in the UK pale in comparison to the mint tea drunk in Morocco. Silver teapots are filled with fresh mint leaves and a pinch of green tea, then left to steep before adding a spoonful of sugar. Sweet, refreshing and deliciously minty, this is the perfect drink for a day out exploring the souks.
Feeling inspired? Take a look at our Rio Amazon tea range here.
What's your favourite type of tea? Have you been on holiday somewhere and experienced a new kind? Let us know on social media!