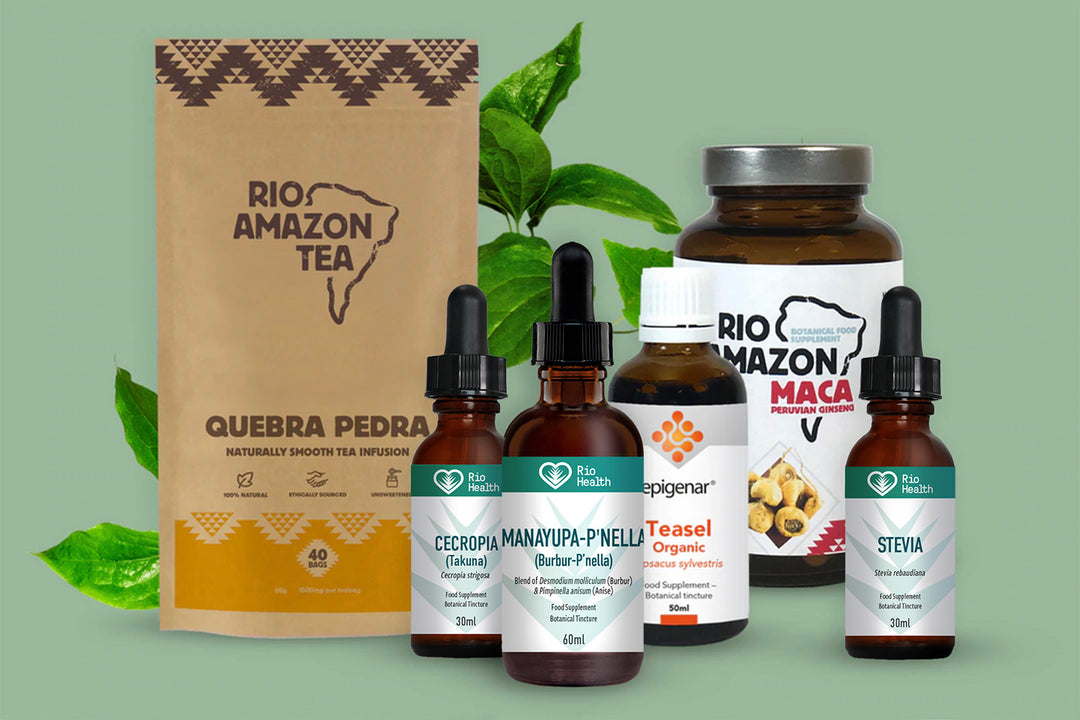 Clearing the Confusion About Those South American Common Names: Huacapurana is Cumanda & Manayupa is Burbur
If the names of some of our products confuse you, let us help.
The gardeners out there will probably know that plants have Latin names that specifically distinguish each plant from other similar ones.  And most plants also have common names—these common names can vary and one plant can be called by many different common names. And a specific common name might even be used for more than one plant, which is why the Latin name is more important. I should mention, too, that sometimes the scientific world decides that a plant belongs in a different plant family and will alter the Latin name—but that is less commonly a problem.
I thought it might be useful to provide the Latin names and some of the common names for some of our new Rio Health products:
LATIN NAME                            COMMON NAMES
Phyllanthus niruri                       Chanca Piedra, Quebra Pedra, Stone Breaker
Phyllanthus niruri                       Bhumyamalaki, Quebra Pedra (as above)
Cecropia strigosa                      Takuna, Embauba, Yagrumo
Otoba parvifolia                         Banderilla
Campsiandra angustifolia         Cumanda, Huacapurana
Lepidium meyenii                      Maca, Peruvian Ginseng
Petroselinum crispum                Parsley
Stevia rebaudiana                     Stevia, Sweet Leaf
Berberis vulgaris                       Barberry, Agracejo
Mahonia aquifolium                   Barberry
Uncaria tomentosa                    Cat's Claw, Samento, Saventaro, Una de Gato
Marsdenia condurango              Condurango      
Gentianella alborosea                Hercampuri       
Desmodium molliculum              Manayupa, Burbur, Amor Seco
Pimpinella anisum                       Anise                  
Phoradendron crassifolium         Mistletoe, Matapalo       
Calycophyllum spruceanum       Mulateiro                       
Triplaris peruviana                     Palo Santo, Tangarana
Cinchona calisaya                     Quina, Kina-Kina, Cascarilla, Peruvian Bark
Asparagus officinalis                  Sparga
 In case you haven't yet seen our amazing new Rio Health Tinctures range, these tinctures are each a 1:3 tincture, provided in a glass bottle with calibrated dropper for easy dispensing. There are 21 new products in this new range--all competitively priced. And, watch this space, some new tinctures will soon be added to the epigenar range—some of which will be certified organic. The epigenar range includes (or soon will include): 
            Achillea millefolium                Yarrow
            Inula helenium                       Elecampane, Enula                
            Hyssopus officinalis              Hyssop, Ezov
            Matricaria chamomilla           Chamomile, Babuna
            Matricaria recutita                  Chamomile, Babuna            
            Dipsacus sylvestris               Teasel
            Dipsacus fullonum                 Teasel
            Scutellaria baicalensis          Chinese Skullcap
            Nigella sativa                         Black Seed
            Cistus incanus                       Rock Rose
            Eugenia caryophyllata          Clove
            Syzgium aromaticum            Clove
            Curcuma longa                      Turmeric, Curcumin
            Sambucus nigra                    Elderberry
            Centella asiatica                    Gotu Kola, Mandookparni, Brahmi
            Bacopa monnieri                   Brahmi
            Zingiber officinale                  Ginger
            Andrographis paniculata       Kalmegh, Indian Echinacea
            Glycyrrhiza glabra                 Liquorice, Licorice
            Valeriana officinalis               Valerian, Amantilla
            Houttuynia cordata                Chameleon Plant
            Morinda citrifolia                    Noni
            Coriandrum sativum              Cilantro
           …………
             NOTE:
            Not all the plants are South American despite the title of this blog