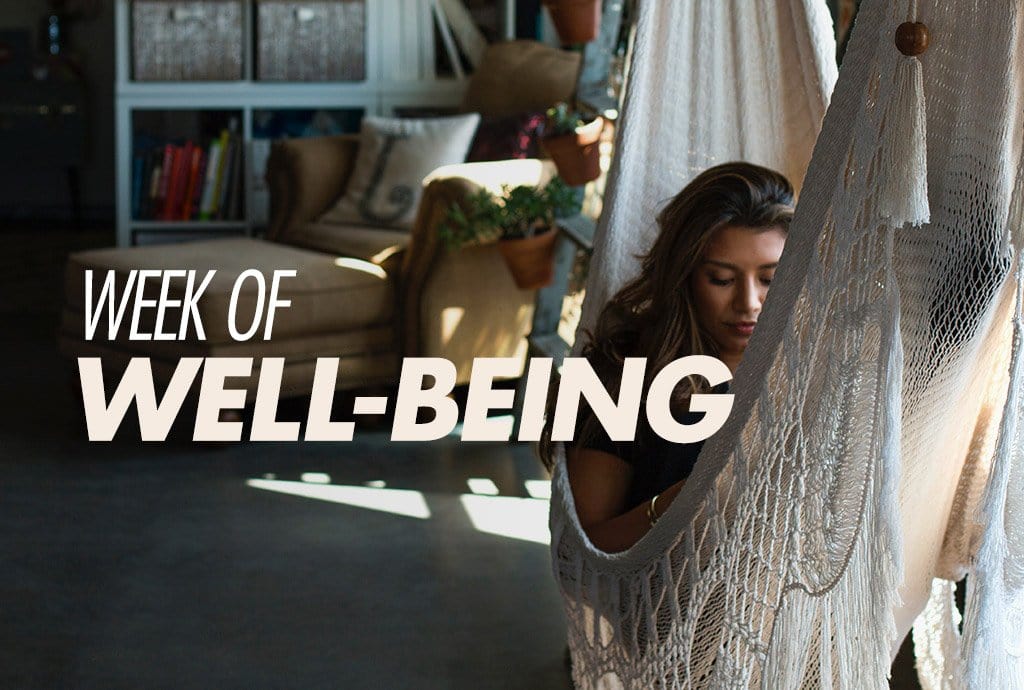 'Week of well-being' challenge
We all have aspects of our health which could do with a little TLC.
That's why we've put together our 'Week of well-being' challenge, with the hope of helping you out, wherever you need it. Whether that's getting more sleep, improving concentration, or reducing your stress levels, we've got it covered.
If you're game, all you'll need to do is replace your usual cuppa with the below herbal teas, and take heed of these wise words!

Monday - Declutter

It's the start of a new week. Whether you're preparing for school, college, or work, the likelihood is that you'll have a million and one thoughts rushing through your brain. This can lead to a clogged up mind, and will almost certainly result in you forgetting something. So, to improve efficiency, here's your first challenge...

Write down all your thoughts. Grab a notepad and scribble your ideas, to do lists, and even your goals and ambitions. This will help to relieve your mind of tension, and structure your workload and priorities. Do this at the beginning of your day, perhaps whilst eating breakfast, or sipping on a warming cup of herbal tea. Our Yerba Maté with Lemon may help boost energy levels, relieve stress, and get you off to a good start.  


Tuesday - Boost productivity

Ever heard of the expression, 'tidy desk, tidy mind'? Be inspired in your own environment by a simple workspace declutter. Aid your concentration by ridding yourself of excess paperwork, and keeping a few personal items such as plants, pictures, and some handy snacks. Your surroundings can make a big difference. This should help to boost productivity at a functional desk.

Need a little help? Try sipping on a fruity citrus tea, such as our Graviola with Orange Fruit. This should give your mind and body a helping hand whilst you ditch those guilty sweet wrappers hiding in your desk draws!


Wednesday - Detox
When we say detox, we don't mean a juice cleanse! Try a digital detox. Switch off, slow down, and allow yourself an hour of self-awareness or meditation to re-engage your thoughts. This can help to de-stress. Whether you close your eyes to some gentle melodies, read a few pages, or simply practise breathing - you'll see just how much better you feel. Practising mindfulness is key.

Our top tip - burn a sweet smelling candle and finish your evening with a tropical-flavoured tea, such as our Pau d'Arco and Passion Fruit.


Thursday - Increase energy

Exercise in any form is great for the body and also for the mind, so make it a priority rather than an option. Whether you choose to hit the gym in the morning, attend your favourite yoga classes in the evening, or take a gentle walk on your lunch hour, 20-40 minutes of exercise can really help you feel great.
In need of a little pre-workout boost? Try our Guava Leaves and Yerba Maté. Infused with green tea and antioxidants, it's a perfect flavour combo, with energy-boosting caffeine qualities from Yerba Maté.
Friday - Support digestion
It's Friday night, and time to celebrate the weekend's arrival with a feast! To ensure you keep your digestive system in tip-top condition, we recommend you try our Espinheira Santa Tea. Known in Brazil for helping support the stomach's natural function, this tea is commonly consumed after meals. Renowned for its pleasant taste, it makes for a perfect non-alcoholic digestif.

Saturday - Pack in the antioxidants
The weekend may be the time to head to the city centre and hit the high street. As you're out, you'll most likely come into contact with different people and different foods carrying free radicals amongst them. After being amongst the busier part of town, home to a hefty part of the city's pollution, you'll want to kick these radicals out with a dose of healthy, rich antioxidants. Fortunately, we've got you covered. Pour yourself a cup of Pau d'Arco and Graviola for some tropical freshness.

Sunday - Get some rest

In preparing yourself for the coming week, it's essential to gain enough sleep. It's important you can perform both mentally and physically well, so allow yourself to fully revive. Try settling down in bed an hour before you want to sleep. Have a warm bath or shower, ensure your room is cool, and opt for a warming mug of Cat's Claw tea to help you wind down.  
Our Cat's Claw tea bags contain added cinnamon, ginger, cardamom and orange peel, giving the tea a pleasant, comforting taste which will make you want to curl up with a good book.
Are you up for the challenge? Get your teas here.