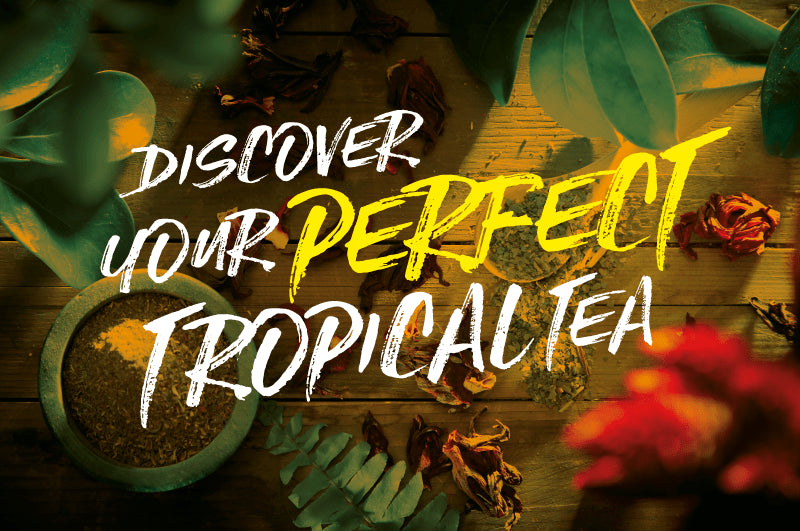 Discover your perfect tropical tea
When every single one of our 'Taste the Tropics' teas sounds so delicious, how do you decide which to try first?! Read on for the lowdown on our newest additions…
This sweet and tropical blend combines two of our best-selling botanicals in one tea bag. So, meet the best of both with a great taste and health boosting properties. The inclusion of Pau d'Arco may benefit for immune support, and Graviola is commonly used as a strong antioxidant (and it tastes great too!).
A fruity and awakening citrus blend, this infusion is flavoured with (and scented by) the inclusion of orange leaf and fruit. It's a rich source of antioxidants too - a tropical way to give your body a helping hand!
The immune supporting properties of Pau d'Arco are combined with Passion Fruit which is a source of vitamin C and B vitamins. The fruity aroma and taste of this tropical blend will transport you to faraway exotic islands.
Combining the energy-promoting, appetite suppressing and concentration-boosting benefits of Guaraná with the high polyphenol content of Açaí makes this the perfect pick-me-up when you're feeling a little sluggish.
Açaí is the fruit of Euterpe oleracea and is rich in anthocyanins—great for supporting immune function and healthy ageing. This berry-scented tea also includes vitamin C-rich Hibiscus which gives the tea a red colour and slightly tart flavour.
A popular choice amongst footballers, Yerba Maté is a green tea full of antioxidants and contains some caffeine which may help boost energy, relieve stress and suppress appetite. Lemon Grass has also shown anxiolytic effect, making this tea a calming yet energising way to start the day.
This infusion combines the energising and appetite-suppressant properties of green tea Yerba Maté (Ilex paraguariensis) with the properties and mild flavour of pineapple, helping to flush fluids through the body. This tea contains caffeine and is flavoured with (and scented by) the inclusion of peppermint - the ideal pick-me-up!
Yerba Maté with Guaraná, Cinnamon and Cloves
A sweet and spicy blend, this tea contains caffeine from both Guarana and Yerba Maté. It combinines energy-promoting, appetite-suppressing properties with the concentration-boosting benefits of Guaraná and stress relieving properties of Maté!
This green tea infusion boasts antioxidants and is a perfect flavour combination with energy-boosting qualities of the caffeine from Yerba Maté. The addition of Hibiscus gives the tea a red colour and tart flavour as well as boosting vitamin C content.
Which one will you try first? Let us know on
Facebook
,
Twitter
or
Instagram
!